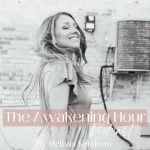 Our lives go through cycles of growth, harvest, death, and rebirth just as we see in nature. On the Fall Equinox you may want to honor all that you have in your life and shift your consciousness from one of lack to one of prosperity and gratitude. In this episode, we discuss the potent energy of the Fall Equinox and how we can harness it to release what no longer serves our highest evolution and as we release, we receive! In this episode, I share a simple and powerful ritual that will assist you in your healing process as you remember the truth of who you are. This is the transformation you're looking for!
//Let's interact through Social//  
Instagram – @gilded.heart.coaching
Stay Weird & Wonderful my Friends!