The Awakening Hour Podcast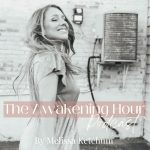 Ep. 16 Becoming Conscious Creators of Our Reality
In Episode 16 Becoming Conscious Creators of Our Reality,  Melissa shares her experience at the Conscious Creators Women's Retreat and what it means to be a Conscious Creator of our reality. Everyone has the ability to co-create a beautiful and fulfilling life with the Divine. It is our purpose to come into this knowing that our thoughts produce our reality. Receive this transmission of light that will guide you to your full knowing of understanding of what it truly means to become a Conscious Creator. 
Join us on our Spiritual S E E K E R women's retreat to Crestone, CO. On this retreat, you will experience adventure, serenity, and transformation. If you'd like more information, send an email to Melissa@GildedHeartCoaching.com.
Follow @HuxleyandMyrrh to stay up to date with any workshops, retreats, or special events produced by Melissa Ketchum. If you'd like to follow Melissa on Social Media – @Melissa.A.Ketchum or @GildedHeartCoaching
Come along on this epic journey, and let's get L I T from WITHIN!
Stay Connected & Subscribe
New episodes are published often. Check back regularly to catch the latest episodes!